Kanebo Cream in Day 40g Daytime Moisturizer
Best Cosmetics Awards 2022
Boost your day with 12-hour lasting moisture.
This day cream awakens your skin, leaving it vibrant and firm. Designed for morning care,
this smooth and enriched cream revitalizes skin, even prolonging makeup finish.
KANEBO CREAM IN DAY
1 type 40g
 Protects skin from dry environments as well as daytime UV rays with sun protection, providing hydration and firmness.
Soft to the touch, it blends comfortably into the skin and improves makeup application. Provides moisture during daytime to reduce makeup from wearing off.
Can be used as a makeup base or applied over makeup.
Gives skin a dewy finish that radiates from within.
Use KANEBO CREAM IN DAY in the morning and KANEBO CREAM IN NIGHT at night, providing 24-hour hydration to envelop your skin in moisture.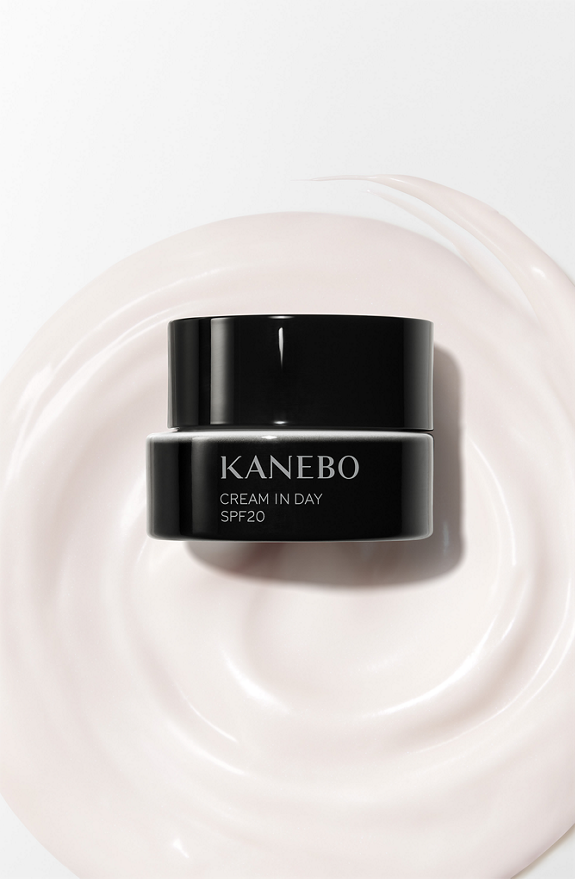 FRAGRANCE A fresh floral fragrance based on the refreshing greenery and flowers of early morning, accented with "Teatopia" tea flower.
FORMULATION Baby-Soft Oil Formulation A cream formulation inspired by the vernix gently enveloping newborn babies' skin, delivering long-lasting hydration and elasticity to the skin. For DAY: Blends in without running and spreads smoothly even over foundation. INGREDIENTS Fucus serratus extract, Althaea root extract [Althaea Officinalis Root Extract], Golden chamomile extract [Chrysanthellum lndicum Extract], Glycerin
1. Close your eyes, breathe in the fragrance, and take slow, deep breaths. awakening_2 2. Take the product on the palm of your hand and apply to your entire face. 3. Spread it into the areas around the eyes, bridge and wings of the nose, and mouth. 4. Cover your face with both hands and massage outward in a long stroke to reach under your ears. Press lightly to pause a moment. 5. Move through the neck, massaging downward to your chest. 6. Finally, use the fingertips to pump the clavicular lymph nodes over your clothes to finish up your night skincare routine comfortably.